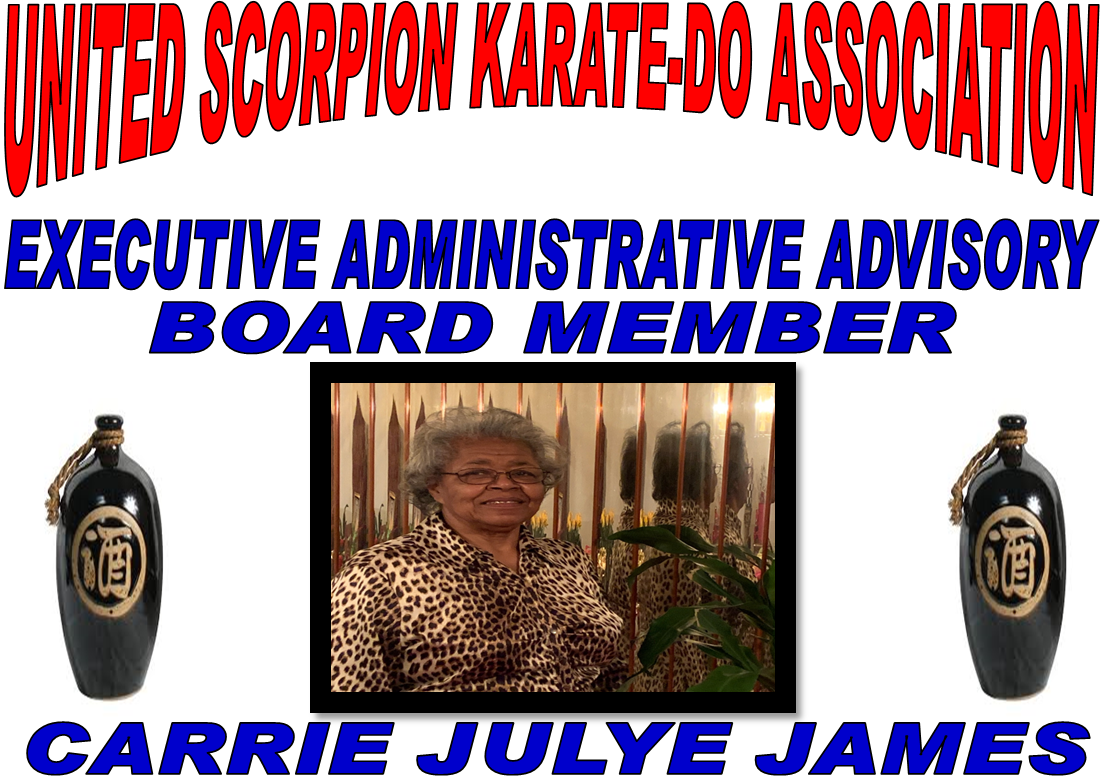 USKA ADMINISTRATIVE ADVISORY BOARD MEMBER HELPS AND ASSIST IN PROVIDING USKA KNOWLEDGE, UNDERSTANDING AND STRATEGIC THINKING OF INDUSTRY MANAGEMENT OF USKA. CARRIE JAMES IS ALSO A PROFESSIONAL RETIRED EDUCATOR WITH OVER 21+ YEARS OF TEACHING AND INSPIRING OTHERS IN EDUCATION. CARRIE IS ALSO THE FIRST LADY OF THE LATE BISHOP, DR. S.D. JAMES OF THE EVANGELISTIC PENTECOSTAL CHURCHES WORLD WIDE (EPC). AND THE MOTHER OF SOKE, MASTER ISSACHAR JAMES OF THE "UNITED SCORPION KARATE-DO ASSOCIATION." MS. CARRIE JAMES IS ALSO A MEMBER OF THE UNITED SCORPION KARATE-DO KELEGION KAI AND THE INTERNATIONAL USKA LEADERSHIP CLUB.
CARRIE JAMES HAS ALSO BEEN AWARDED A SPECIAL TRIBUTE FROM THE ALABAMA EDUCATION ASSOCIATION AND NATIONAL EDUCATION ASSOCIATION. CARRIE HAS ALSO RECEIVED CERTIFICATE OF RECOGNITION FROM THE PIKE COUNTY BOARD OF EDUCATION FOR 21+ YEARS OF DEDICATED SERVICE. CARRIE JAMES ALASO HOLDS A CERTIFICATE OF NOTARY PUBLIC IN THE STATE OF ALABAMA (PIKE COUNTY).
CARRIE JULYE JAMES HAS BEEN AN INSPIRATION TO MANY ACROSS THE WORLD. PARTICIPATING IN THE ANNUAL TROY UNIVERSITY LEADERSHIP CONFERENCE WHERE SHE RECEIVED SEVERAL CERTIFICATES. CARRIE JAMES ALSO PARTICPATED IN THE FREEDOM NOW "MARCH ON MONTGOMERY" CIVIL RIGHTS MARCH FROM SELMA TO MONTGOMERY MARCH 25, 1965. CARRIE JAMES WAS ABLE TO ATTEND THE LIFE CHANGING EVNTS THAT DAY WITH PERFORMANCES FROM: MAHALIA JACKSON, SAMMY DAVIS JR, ALAN KING, GEORGE KIRBY, BOBBY DARIN AND MANY MORE. WITH HER EXPERIENCE, WISDOM, KNOWLEDGE AND UNDERSTANDING, SHE STAND AS AN EXECUTIVE ADVISORY BOARD MEMBER FOR THE UNITED SCORPION KARATE-DO ASSOCIATION.